What Do Immigrants Bring Us?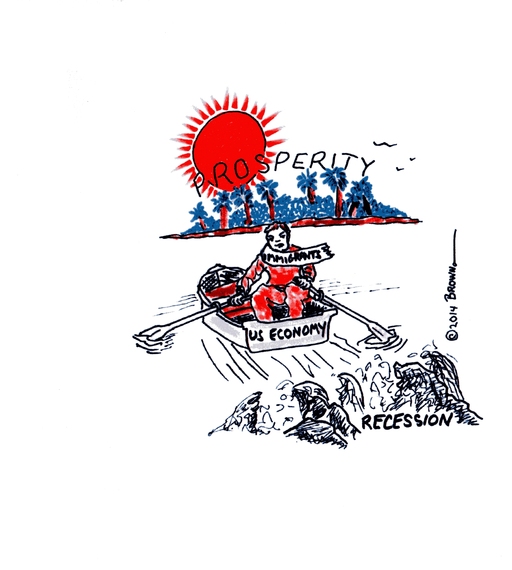 What do immigrants represent to the U.S. economy?
The rising tide of immigration floats the boat of the U.S. economy.
People do not immigrate to the United States to go on welfare!
Foreigners typically come to the U.S. to create a better life for themselves, be they fleeing from poverty or persecution, relocating to participate in a business opportunity, or coming to reunite with family members. Influxes of immigrants to localities that are immigrant-friendly tend to prosper more than those that are hostile. This is particularly true in stagnant areas that are losing population such as the Rust Belt.
An influx of immigrants into an area causes a reverse in population loss, resulting in an expanded workforce, rising home valuations, and decreased foreclosure rates. (Source: The Brookings Institute)
As immigration increases, so does economic growth in the largest metropolitan areas of the U.S. (Source: The Fiscal Policy Institute)
There is no significant relationship between the unemployment rate and the presence of immigrants who have come to the U.S. in the last decade. (Source: U.S. Census Bureau's American Community Survey)
A review of the statistics of the H-1B non-immigrant worker program clearly demonstrates that immigrant workers come to the U.S. because there are new jobs for them to fill. They are not coming to steal existing jobs from U.S.-born workers.
An H1-B visa allows employers to hire temporary, foreign workers in specialty occupations. A limited number of H1-B visas are issued yearly. Applications may be filed starting on April 1st of each year, and are accepted until all visas have been allocated.
In April 2008, before the Great Recession, demand caused the H1-B filing window to close by April 5th — meaning that this category was filled in five days!
In 2009, in the depths of the Great Recession, H1-B filings were accepted until December 21, 2009, because there was no longer any pent up demand for this employment visa.
As the Great Recession began to recede, H1-B filings began to accelerate, so that by 2013, the application window slammed shut again on April 5th.
For this calendar year, applications were only accepted until April 7, 2014.
It costs the U.S. taxpayer NOTHING to process and adjudicate immigrant applications.
United States Citizenship and Immigration Services (USCIS) operates under the principle of user fees. Applications for immigration benefits, such as green cards or waivers to prevent deportation, are paid for in advance by the person or employer requesting relief. The U.S. Congress has ordered USCIS to charge people what it costs to process and adjudicate a particular petition. For example, a petition by a U.S. spouse for his/her foreign husband/wife costs $420. The application fee for the green card in the U.S. costs an additional $1,070.
USCIS fees are a regressive tax against those least able to afford them.
A waiver of the application fee is available for certain immigration forms and for certain applicants, such as abused spouses. However, many of the people who might qualify for this relief are not able to do so due to extremely restrictive requirements. To qualify for this waiver, it is required that the applicant:
Establish that s/he earns less than 150 percent of Federal poverty guidelines as determined by the U.S. Department of Health and Human Services
Show receipt of welfare benefits
Establish humanitarian reasons to justify the application fee waiver.
Clearly, this is not a wide open door through which one can easily saunter!
Citizenship applications declined dramatically during the Great Recession.
In 2008, the high naturalization application user fee of $680.00 dissuaded applicants from applying for U.S. citizenship.
In 2007, almost 1.4 million naturalization applications were filed.
In 2008, as the Great Recession hit, only a bit over half a million applications were filed (Source: The Department of Homeland Security)
The weak economy, coupled with high user fees, lessened the ability of qualified immigrants to become citizens because they had to allocate their limited financial resources to more pressing issues such as paying their rent and feeding their families. U.S. citizenship firmly connects people to the U.S.A, and concomitantly stabilizes and strengthens communities where these new citizens live. Therefore, the decline in naturalization applications in 2008 could not have been beneficial to the social and financial fabric of the U.S. during such a profound economic crisis.
So what do immigrants represent to the U.S. economy?
Prosperity and stability…